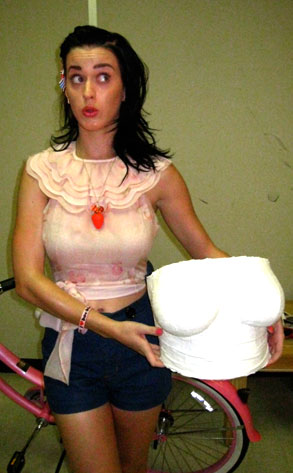 Katy Perry got a boob job.
No, the "I Kissed a Girl" hitmaker didn't go under the knife to increase the size of her bosom. But she did make a cast of her chest for charity.
The one-of-a-kind sculpture will be painted by her boyfriend Travis McCoy of Gym Class Heroes and then auctioned off in a benefit for the Keep a Breast Foundation's youth outreach program.
Perry and McCoy are keeping hush-hush on the final look of her cast, but I'm told it should be done and ready to go on the block beginning Nov. 26.
The auction also features more than 45 images taken by photographer Erin Caruso during the Vans Warped Tour music festival, including pics of Perry, Paramore and Shwayze. A traveling exhibit of the photos, called Shot in the Pit, will hit Los Angeles, San Francisco, New York and Irvine, Calif., over the next few weeks.